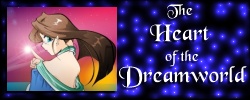 This is the heart of the Dreamworld, a land of eternal twilight and a vast snowscape. The sky is a deep rosy pink, fading to orange on the eastern horizon, and to lavender and then blue in the west. There is no sun in the sky; it is neither day nor night. Above shines the crescent moon, and at its tip is a single star. This is the part of the Dreamworld that is most truly a dream. This is the song that sings softly to you as you drift off to sleep, the magic whisper in your ear, whose words you can never quite make out. This is the Dreamworld's Heart, the very center of all the Dreamworld is.
Welcome to the Heart of the Dreamworld! I've so named this section because while I have many, many hobbies, writing is the one thing that truly defines me, the thing I love most. Writing is also the main focus of this webpage—it's all about the Dreamworld Saga, after all, which is my favorite novel-in-progress out of all my current works. Read on to find out more about the stories and books I'm writing, and to even read a few excerpts!

The Dreamworld Saga

The Dreamworld Saga is one of my favorite stories out of all those I've written, and, as you can see, the inspiration for this webpage was derived from it! The first version of The Dreamworld Saga was written back in 1994, I think, and different versions of it came and went until its most recent rewrite, after I first started roleplaying the main character, Ariana Dreamstar, in Rivendell. Click here to learn more about the history, plot, and characters of this amazing world, and how Ariana became the Guardian of Dreams!

Starchasers

Starchasers is a brand new project that I am working on with my best friend, Elfie. Starchasers (a working title only) is mostly going to be a surprise, but it will involve adventure, legends, an ancient civilization reminiscient of Atlantis, and a quest for an incredible artifact in uncharted lands. Yeah, same old, same old, right? Believe me, this story is going to be new and different! It's been a heck of a lot of fun so far. We were toying with the idea of doing the story in comic book format, but now we're talking about making it into sort of an illustrated novel. Click here to read more about the story and characters, and to see some of our conceptual artwork!

The Waverunner Chronicles

The Waverunner Chronicles (only its most recent title) was one of my very first fantasy stories, begun when I was in fifth grade, back in 1989! It's evolved a great deal since then, undergoing drastic changes in plot, setting, and characters. But some things remain the same: it's about a world of shores and ocean, where mermaids still swim the blue waters, and the kingdom of Waterlight rules over land and sea. Like The Dreamworld Saga, The Waverunner Chronicles underwent a revival when it became a roleplaying storyline in Rivendell, and I have a total rewrite in the works for the novel. Click here to find out more about how this story has changed over the last eleven years, and learn about what trials the Waverunners, guardians of peace and order in Waterlight, must overcome to protect their kingdom!

The Killandyr Trilogy

The Killandyr Trilogy takes place in the elven kingdom of Killandyr, a medieval fantasy world in a more traditional style than some of my other works. So far I have three separate stories in the works (working titles only): The Three Wanderers, Another Way, and Royal Magic. All three tell of how the elves fight for survival in a world where humans, once their allies, now fear and hate them. The main characters of these stories, with the help of other races such as the dragons, seek to restore peace and bring back the old alliances once more. Yes, the setting and even the basic plot may seem cliche, but I believe it's more tried and true. And, as always, I try to put in my own personal style, along with several unexpected twists and turns! It may not be quite as unique as my other works, but it's never boring! Click here to learn more about the battle against the evil warlord who wants to destroy or enslave all the elves of Killandyr.

Keyri Kallersen's Tale

Keyri's story is definitely different! I'm primarily a fantasy writer, but occasionally I dabble in sci-fi. Keyri's story, as yet untitled, sort of fits that description. Really, though, it's more political fiction than science fiction. Keyri is a young vagabond, living on the streets in a desolate, possible future of what appears to be the former United States. Her country is now ruled by a dictator, and religious practices of any kind are strictly outlawed, on pain of death. Keyri meets up with a Christian underground movement called the Resistance, people who are working to make the world safe for those of faith to practice their beliefs openly and without fear. Click here to learn how the Resistance changes Keyri's empty life, and whether they can make a difference against the dictator's harsh regime and bring back the religious freedom their land once enjoyed.


The Dreamworld Saga, The Waverunner Chronicles, The Killandyr Trilogy, & Keyri's Story ©2001 Amy Unfred
Starchasers ©2001 by Amy Unfred and Amanda Wilson