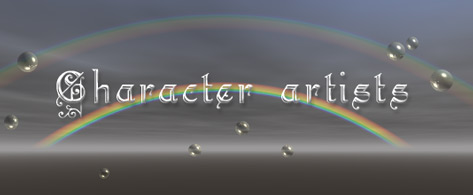 One of the great things about roleplaying in Rivendell is the ability to designate a picture URL to go with every post. Choosing character images has become an art in itself, and often the image helps to define the character and how you roleplay them. So it is no surprise that many of us in Rivendell like to have custom-made character portraits. Not all of us have the artistic talent to do this themselves, however. That's why I've compiled this page of artists, most of whom frequent Rivendell and are willing to do character artwork for others in a variety of media. Some are professional artists and charge for their artwork; some are amateurs and are willing to work for free when they have the time to do so. Each artist listed here does excellent work in a unique personal style. Their contact information is included in case you are interested in their services. If you are also an artist and would like to be included, particularly if you are a Rivendell regular, please email me at arianadream@hotmail.com and request to be added to the page!

Bonnie Brooks
Bonnie is a Rivendell regular, and she churns out artwork like crazy! She's done some really beautiful images in a wide range of styles and media. She particularly likes to do anime characters, fanart, and furries, but she's also done drawings in realistic style, traditional fantasy, landscapes, and a variety of others. Whatever you want, she can probably do it. Oh, and she also did the nifty banner at the top of this page. ;)
Preferred media:
Bonnie uses a wide range of media, including charcoal, colored pencil, acrylic, Prisma marker, goache, and CG.
Price range:
Prices vary, depending on detail and time involved, among other things, but this is what Bonnie usually charges for her work:
Sketches: $4—7
Inked pieces: $10-20
Inking, marker, and CG: $13-30
Paintings: Depends on complexity of the commission; discuss with Bonnie for an estimate. Bonnie is also willing to do art trades as well.
Sample artwork:
Copyright Bonnie Brooks— do not use, distribute, or alter without permission.
Endless Night
Winged Horse
Cruelest Dream
Insanity
Panda Furry
Contact Information:
Email Bonnie at princesslana82@yahoo.com to request a commission.
Bonnie's webpage: Virtual Insanity

Elfie
Elfie also roleplays often in Rivendell. She is an art and media major and has done some professional artwork. Primarily she does anime and furries, as well as her own personal style, which draws on anime. She is also a fantasy writer and often does pictures of characters from her stories. She is also the art director for the Starchasers project we are working on together.
Preferred media:
Elfie uses primarily colored pencils, markers, ink, and pencil.
Price range:
Elfie's prices depend on the complexity of the work and the time involved. She prefers to charge an hourly rate if possible.
Sample artwork:
For samples of Elfie's art, please visit her webpage: Elfworks Studios
Contact Information:
Email Elfie at elfie_42@hotmail.com to request a commission.
Elfie's webpage: Elfworks Studios

Rosanna DeShetler
Rosanna roleplays in Rivendell and has done some beautiful artwork, mostly for her own characters. She has done pictures for others on occasion, and while she does not currently work as an artist, she does consider herself a professional. In her words, "I try to do my best on every picture because I know how important a good picture is for roleplaying."
Price range:
Rosanna sometimes charges for her artwork and sometimes does not. Prices should be discussed with her and will likely depend on the time commitment involved in the commission.
Sample artwork:
Copyright Rosanna DeShetler— do not use, distribute, or alter without permission.
Amber and Amberlith
Malakyte
Quicksilver
Kelva
Raina
Contact Information:
Email Rosanna at desh44@hotmail.com to request a commission.

Ariana Aislinn
Okay, okay, so my name isn't Ariana Aislinn. *G* But if you've been to my main page, you'll know that Ariana is my alter ego, the main character from my novel. Anyway, I had to put myself on this page, of course, because I've done some character artwork for myself and others. It's not terribly good, but it's fairly decent, and I am willing to do art for others once in a while, if they're willing to wait till I have the time to get around to it!
Preferred media:
I usually use pencil, ink, colored pencil, watercolor, and CG. I usually like to ink a picture, scan it, and color it in an image editing program, but I've also done some 3D graphics in POV-Ray. Landscapes and backgrounds can be done in 3D upon request.
Price range:
I've never charged for my work, particulary because it's only amateur and not the best. I do artwork for free usually, but you may have to wait a while for me to have the time to finish it. If the work is really huge, complex, and time-consuming, I might ask you to pay a small fee to compensate for the time involved.
Sample artwork:
Copyright Amy (Ariana)— do not use, distribute, or alter without permission.
Ariana Dreamstar
Jendrik Shael
Kelani Rennings
Calandryll De'serka
Ashrenna
Jalinda Galestorm
Samples of my 3D computer graphics can be found at:
http://www.geocities.com/dreamkat_ari/
Contact Information:
Email me at arianadream@hotmail.com to request a commission.
Amy's webpage: The Dreamworld Saga
3D Graphics Page